Finding the Best Flashlight for the Construction Site
If you work in construction – either as a builder, architect, designer, installer or inspector – you know that your most important possessions are your tools. With the a set of well-maintained, quality tools you can find work in any corner of the world. They are your passport so to speak. The tools don't make the man, but they come close. They signify that you are a craftsman. They prove you know what you're doing and can be trusted on a job site. Without them, you're just another day laborer.
Those in charge of the construction of homes and workspaces know the importance of quality tools. So, if you're willing to pay top dollar for a hammer or level, you should be willing to do the same for a quality flashlight for the construction site, right?
But which one?
Well, let's look at a few tasks that you might employ a flashlight for on the construction site and maybe we can figure it out.
Reading Plans in the Early Morning Hours
Work starts early (ok not so early that we wake the neighbors though) on the jobsite, and in order to proceed in an orderly and effective manner, you need to make a plan. That involves reading plans. A quality flashlight with the ability to mount a diffuser – a lens that spreads the light out – will help you read your plans and formulate a work strategy. You also want a flashlight that with an adjustable beam strength. You don't want it to be too bright – adjustable down to 20 lumens or even lower is ideal (options from Olight include models that have moonlight mode which can allow for .5 lumens with a single click of a button).
Inspecting Progress
Depending on the job, the structure could be almost completed before the power is turned on. That doesn't mean you don't need to inspect the progress of your workers. This often means going into those dark nooks and crannies yourself. Take a light that is strong enough to light up a room, but not so bright as to be overpowering.
Building or Installing
If you work in plumbing, electrical wiring or HVAC installation, you know that you often have to work in a crawl space or other ill-lit space of a job site. Having a light that can be affixed to a wall or mounted via a head strap – like a head lamp – make working in these spaces much easier.
So, given these three situations, you need a high-quality flashlight that allows you to select beam strength, can fit a diffuser and is compact enough to work in tight quarters and possibly be mounted to a headband or hard hat. Also, consider the environment you work in, investing in a light that is tough enough to take being jammed in a tool belt full of steel tools or dropped from a height every now and again would be the smart choice.
What are a few options that just might be a match for the job site?
One Light that Does it All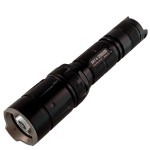 SRT6 – The Nitecore SRT6 is designed for law enforcement but that doesn't mean it can do the job when it comes to construction. With an easy to use interface and a maximum output of 930 lumens this light is sure to help whether you are in a crawl space or it's getting late in the day and you are knocking out the final touches.  The SRT6 is of a size (6.02 inches) that it isn't designed to be put in your pocket.  It's much more suitable to be in your tool belt or at the ready in your toolbox.  With it's hard anodized aluminum construction you won't have to worry where you put it though as it will stand up to the test.
The SRT6 can also accept popular options such as a diffuser (NDF34) allowing for additional methods of lighting up those challenging tasks.
A Power Packed Headlamp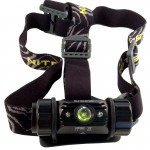 Headlamps have been common on commercial job sites for quite some time due to the necessity of wearing hard hats. Of course this doesn't mean you have to be working a high-rise to get the benefits of a headlamp. Headlamps have increased in durability and output over the past few years. The Nitecore HC50 all aluminum headlamp offers a strong 565 lumens of output and a headstrap that makes it easy to wear on a hard hat or just on your head.
Fortunately, we offer a variety of LED flashlights that will meet your needs and exceed these requirements.