From Batteries to Waterproof Level, Flashlight Information to Help You Find the Best Light
We understand that in your search for the right flashlight you might have a few questions.  Of course we always invite you to reach out to us with your questions, but we want to ensure you can learn as much as possible about flashlights to help you select the best light for your adventure or for your loved one.
Here you will discover flashlight information that covers everything from learning more about batteries, to how the ANSI/FL1 standards can make it easier when comparing lights.  Find out more below and please join us on our blog to find out the latest from flashlights to survival.
When you are looking for a great camping or tactical flashlight you may think that the batteries are available at your local store.  While there are great lights that are available that can operate on traditional AA batteries you will find that there are a variety of specialty batteries that can help you enjoy brighter lumens and a longer operating time than traditional alkaline batteries.  Discover more about the battery options that are available for your LED flashlight.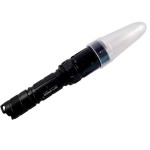 Accessories aren't always the first thing that comes to mind when you think of a flashlight.  As you discover more about what is possible with your flashlight you will start to evaluate flashlights in a totally different manner.


Accessories can extend the use of your light and help you get even more performance out of it.


With today's manufacturers of lights you will discover a range of accessories that allow you to get even greater usage from your flashlight.  Accessories can vary from those that alter the emitting light to providing additional usage options.  Whether you are interested in mounting your light to a gun via a picatinny rail, using your flashlight with your bike, or exploring how colored filters can be of a benefit we invite you to discover more about the many accessories that are available for flashlights.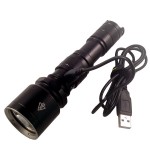 Camping is an outdoor activity that nearly everyone has enjoyed.  Whether your first adventures were from the time you were a child to even taking your family on adventures there are many opportunities to enjoy the great outdoors.  We understand that camping can mean something a little different for everyone.  For some it's car camping along the beach, for other's it's backpacking throughout the high sierras, or even escaping for a nice trip of fly fishing.
Regardless of your camping activity there is a light for your adventure.  Explore more about the features and functions that make for a great flashlight on your next camping trip.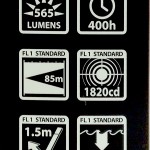 If you are new to finding a performance flashlight then you might be wondering what all of the pictures are on the boxes!  The ANSI FL1 standards were created for the benefit of consumers to help you to easily compare key flashlight performance metrics across different brands.
We understand that while lumens may always get the talk of the town (and yes we highlight lumens on every light offered) that there are key features such as throw distance, intensity, hours of operation and more that can dictate which light is right for your goals.  Read on to find out more about the ANSI FL1 standards, in plain English to help you determine which light is going to be right for your next adventure.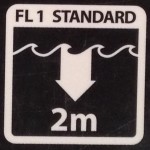 Are you wondering what level of water your flashlight can endure?  You certainly don't want to wait until you drop your light in a river to find out if it really is waterproof!  One of the most common aspects that people evaluate, as part of the ANSI FL1 standards, is that of the level of water a light can withstand.  This item of evaluation is known as the IPX standards.  We dive in to the IPX rating system to help you see which light will meet your demands.  After exploring more about these standards, and you see IPX-8, you will know if the light will be up to your standards.
When there is innovation in an industry it benefits both consumers and manufacturers.  As new patents are registered manufacturers must compete with innovations of their own to gain market share.  This healthy competition means you get to benefit through technology patents that range from overall design to improvements in the user interface.  We break down patents by manufacturers to help you discover more about what's available to help you choose the best light for your next adventure.
Traditional flashlights of years ago were powered by an incandescent bulb or even a xenon lamp, but that is becoming less common with the efficiency of LEDs.  Even when you start searching for an LED flashlight you might not think about what is really making that bright light shine from your hand.  The tiny light source that is able to provide you an output of 100,200, or even 3,000 lumens of output is an LED.  Now, not all LEDs are created equal.  Each flashlight manufacturer will feature different lamp types providing different benefits to the flashlight.  We help you explore a variety of the LEDs available made by one of the market leaders; CREE LEDs.