Olight Flashlights, What's New for 2015?
Each year top-of-the-line flashlight manufacturers like Olight put out new models – hoping to improve on their already excellent products. This isn't something they have to do. They could easily choose to just roll out last year's model with a few minor changes. But companies like Olight rarely rest on their laurels. They have an overwhelming need to push the envelope and improve the tactical and emergency flashlight industry as a whole.
2015's line of flashlights is no different than previous years: Olight has kept what worked and improved what could be better.
So, what's new (and old) for Olight flashlights in 2015?
S30 R – Baton – 1,000 Lumens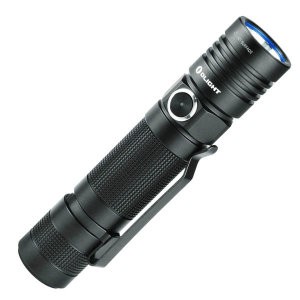 Olight's S30R Baton is a lightweight, rechargeable flashlight that features over a 1,000 maximum lumens output. Featuring five different brightness modes – as well as a strobe – the S30R is suitable for reading under the covers, searching for a lost dog in the dark woods and everything in between. This rechargeable flashlight has an eye-popping 720 hour max runtime. Rechargeable is the operative word in that sentence. The S30R Baton is part of Olight's expanding USB-rechargeable flashlight line. It charges via a standard micro-USB. That means you can charge the S30R virtually anywhere.
What's Old in 2015?
Same tempered glass lens that offers a 99% light transmittal rate.
Same Easy-to-use side switch that allows quick access to the SR30's five brightness modes.
Same memory function that makes returning to the previous setting a snap (or click).
Same removable pocket clip.
Same magnetic tail cap.
Same tough and scratch resistant construction.
What' New in 2015?
New lower profile side switch with power indicator feature.
New micro-USB charging dock.
New thermal management system that reduces the chance of overheating by dropping light output by 60% after five minutes of heavy use.
New glow-in-the-dark bezel – just in case you drop your light in the dark.
H25 Wave Headlamp – 850 Lumens
The H25 Wave is the newest member of Olight's headlamp lineup. Unlike other headlamps, the H25 Wave by Olight doesn't sacrifice power and performance in favor of convenience. It offers a maximum lumen output of 850 lumens – more than enough to illuminate even the darkest spaces. The H25 Wave features two brightness levels in addition to its max output mode. Even with such a powerful beam, and compact size the Wave still has a max runtime of 60 hours.
But that's not what sets the Wave apart from other headlamps. That honor belongs to the Wave's hands-free, infrared switch. This allows you to turn your headlamp on or off just by passing your hand in front of your face. The head is fully articulated allowing you to adjust the angle of the beam on the fly.
The Wave also features a separate, rechargeable battery back that clips to your belt and is easily recharged via a USB.
Since the H25 Wave Headlamp is a new offering from Olight, there is no old and new. It's all new!
What's New in 2015?
Three brightness levels: 850-lumens, 250 lumens and 35 lumens.
Max runtime of 60 hours.
Single die CREE XM-L2 Neutral White LED.
Articulated head that allows tilt of up to 75-degrees.
Die-cast, aluminum housing.
Rechargeable lithium battery pack with USB compatibility.
IPX-6 water resistance rating.
M2X-UT Javelot – 1020 Lumens
Like the Wave, the M2X-UT Javelot is a new offering from Olight. This powerful flashlight offers three brightness levels with a peak output of 1020 lumen beam and a max beam throw of 810 meters. The Javelot is remarkably similar to the M2X – just a bit smaller.
At 6.4 inches in length it fits well into your hand and puts out an impressive beam due to its remarkably efficient optics system utilizing a large reflector and powerful, custom LED. Its power and size make it an ideal everyday carry flashlight for those who don't mind wearing a flashlight on their belts.
Like many of Olight's flashlights, the M2X-UT can use both rechargeable and non-rechargeable lithium ion batteries. And the power and heat management systems give the Javelot a max runtime of 30 hours on a single charge.
Ease of use is always a primary goal when Olight is designing a new flashlight. The M2X-UT is an example of that philosophy. It features an easy on and off tail cap switch, integrated memory function and the ability to choose a new brightness setting by a quickly twisting the head counter and the clockwise.
The focus on quality and durability carries over to the exterior construction. Like other Olight flashlights, the M2X-UT Javelot uses Mil-Spec Type III, anodized aluminum for the housing giving it a 1.6 meter impact rating and an IPX-8 waterproof rating.
Along with the flashlight, you will find a holster, battery magazine, a couple of spare O-rings and a lanyard when you open the box for the first time.
Like the H25 Wave Headlamp the M2X-UT Javelot is a new offering from Olight.  So, there are no old features to go over.
What's New in 2015?
Three brightness levels: 1020-lumens, 250 lumens and 20 lumens.
Max runtime of 30 hours.
Single die CREE XM-L2 Neutral White LED.
Easy-to-use, one-click on/off tail cap switch.
Die-cast, aluminum housing.
Rechargeable lithium battery pack with USB compatibility.
IPX-8 water resistance rating.
Each of these Olight flashlights – and many more – can be found in our online store.